Welcome to WaynePeter.Com
Thank you for finding it. Whether you are an elite athlete or weekend enthusiast, suffering from a chronic ailment or have an acute problem. My practice offers you professional service provided by a highly experienced qualified Sports therapist, all within a professional clinic setting and rehabilitation facility.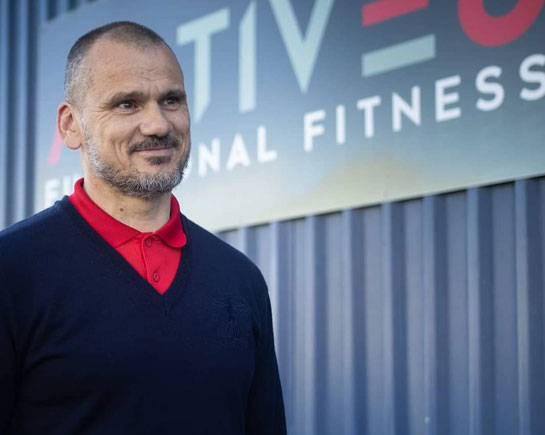 Introduction
My name is Wayne Peter , married father of two and also an experienced Sports Therapist working in both an elite team and private clinic environment. Operating in the Shropshire and Mid Wales area, I offer professional treatment and rehabilitation advice with a client based focus, to all levels of athlete, be it elite or amateur level. Whether its a current injury or long standing pain, I utilise a number of therapy methods to help return you to optimum performance in the shortest possible time, in a professional but friendly manner.
more
Private Clinic
All within a relaxed private environment, my purpose built clinic provides the perfect area to complete your consultation process and administer the many therapeutic treatment techniques I can provide. Being based within our highly functional gym'Active8′, it also allows me the perfect facility to work one to one with patients, within an Exercise Rehabilitation or Strength and Performance capacity.
Latest News
Dispelling the Myth Deep Tissue Massage Should Hurt
"Ah its only a bit of pain, we are not doing anything if it doesn't hurt ! " If ever you hear the above sort…
Cramp – Don't you just hate it, but what is it and why do we get it
With Pre season football just around the corner and endurance sport season (Running / cycling ) now in full swing, discussed is a subject that…
When a Therapist tells you : 'You'll need several appointments'
When a Therapist says it will take 5/6 sessions ? The number one question I must be asked by my clients is: ' How many…
see what our
Clients say about us...
Wayne was fantastic! I went in looking for some answers about an injury I'd had for a while and left with a clear explanation and plan of how to recover and improve my symptoms. Couldn't have asked for more. Noticed a difference straight away and the exercises he has provided is resulting in improvements day by day . Thank you Wayne!
Sandy Ogden
Fantastic therapist! Been suffering with arm and shoulder pain for months wayne listened to me and my stresses and knew exactly what to do to help me, gave me excellent advice and a treatment plan to follow as well as therapy right there and then! 10/10 highly recommend woke up this morning pain free and in better spirits
Natasha Humphreys
I've seen Wayne a few times over the last couple of years for various sports injuries. Each consultation is thorough and not rushed, an in depth chat at the start to understand the injury and cause of it followed by treatment on the day and a recovery programme to carry out over the next few weeks. Thoroughly recommended and each time I have recovered fully due to his treatment and recovery plan.
Scott Harris
5 Star service and 5 Star results! Wayne does not mess about, he gets straight to the problem, gives his diagnoses, treats you and tells you what you need to do to continue your recovery. Honest, straightforward and, most importantly, effective.
Geoffrey Carr
Wayne was very professional, he made me feel very at ease. Followed up with an email with a exercise programme for me to do at home. Will definitely go to him again
R Jones
Very professional approach!! A friendly and very knowledgeable guy who put me straight at ease in the way the consultation went. The consultation and treatment was followed up with an exercise plan with the back up of any further help via email…..thank you
Richard Bradbrook
Very professional and thorough treatment, explained really well what my injury was and how to treat it. Follow up email with wide range of exercises to aid my rehab. Top service from a top professional
Craig McCarthy
Very reassuring and thorough, Wayne is friendly and professional, giving plenty of practical help. I would certainly recommend him.
Tanya Sayce
The best thing is the Professionalism! Very helpful! Definitely worth recommendation! Thank you!
Magda Sylwestrzak
Couldn't be happier with Wayne's services, kept it simple and easy from the beginning and gave me the perfect guidance for my recovery. Highly recommend!
Alex Musgrave
Wayne explained what is happening to cause the pain and why he using the method to treat it. Great follow up email with further exercises to aid the rehab.
Simon Barkley
TReally professional service, made me feel very assured in my recovery and was always on hand to help with anything I needed.
Dan Griffiths
The best around for sports injury and also first aid training
Tawanda Melusi